All went well last night. Granted it is not cold like the great white north, but for the gulf coast, it is a decent test. I took Sarge's advice and put the down between the jungle blanket and the hammock. Temps got to about 35 not counting any reduction by a slight breeze. I know Sarge got his Jungle Blanket UQ to 38 with no extra, but my tests did not get me there, so I added the throw. To quote my wife "I have been trying to wake you up for a half hour
, so I guess you were not cold!!". She tried calling to me from the deck, and ended up having to walk out and shake the hammock.
My guess is this setup will take me at least to freezing. Waiting for the temps to drop into the 20's later this winter to see just how far I can go with it.
Clothes - fleece 'lounge pants' (PJ bottoms), long sleeve t-shirt, light cotton vest, no socks.
Top - 0 degree sleeping bag open used as a TQ. since I was testing the underinsulation, I wanted to be sure the top did not factor into my cold.
All the yellow shock cord and ridgeline tighten up when I get in the hammock. The pictures make the angles look weird, but it works in practice.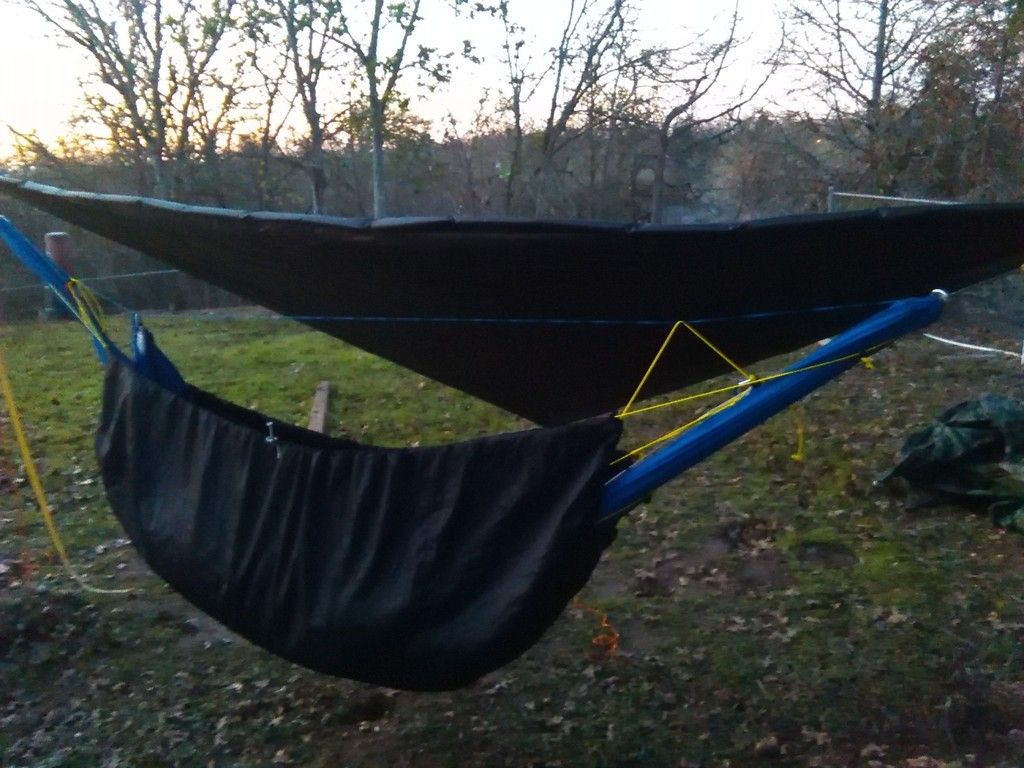 . Jungle blanket moved, out of the way to show the modified Costco throw.
Being that I am not a narrow guy, or a short guy, with broad shoulders regardless of the size of my waist, I don't think I would be comfortable with just a 3/4 standard UQ. Because of how I had it rigged, the throw shifted a time or two during the night, but even at ideal placement, any movement on my part would have me exposed. Since it was a booster, it was less critical. So I will use the Jungle Blanket as primary, and the throw as added when needed