I have joined the cool kids and now have an UnderQuilt.
1 - Jungle Blanket - $34.95 Amazon Prime
6 - small parachute buckles from Hobby Lobby - $1.99
4 - cord locks - $1.99
small shock cord (bigger would be better) - $1.99
3/8" elastic (bigger shock cord would be cooler) - Free - Stole from my wife's sewing cabinet
Couple hours watching Football and hand stitching -
Priceless
( yeah, I just combined football and sewing!
)
Total cost - $40.92
First I hand sewed a clip at each corner of the blanket, and one in the center on each long side.
Then I sewed the other side of the clip to the edge of my hammock
If using a thread injector, I would have had a short piece of webbing through the buckle, and run a stitch to the blanket or hammock. I don't sew, and my wife was gone for the evening, so I hand sewed the buckles like you would a button. It worked well.
I opened up a small hole in the very corner of each side of the blanket where the seem is tucked into itself (I don't expect any tearing here), and ran the thin shock cord or elastic, to the other corner, under the outer shell, and back out the other end. On one end it is tied to the buckle, on the other end it is in a cord lock.
I put buckles in the center because that way in the middle of the night when getting back in, I can grab the buckle and know the hammock is under me, not just the UQ.
The blanket is the same width as my hammock, so that worked out well for sizing. It ends right at my feet, and goes several inches past my head, so it has full coverage. Once it's clipped onto the hammock, I can pull the side cords shorter, which brings the blanket up to the bottom of the hammock and give pressure to the sides to remove gaps as needed. The ends just cinch up like any other UQ. There is no cord or suspension past the blanket, it stops at the clips. It would have been quicker to just run the cords, not sew buckles, and make a traditional suspension. I would have been more concerned about tearing at the holes I made in the seams though, because on mine the buckle holds the pressure, if no buckle, the hole in the seam would carry the load. There is plenty of room to lower the blanket a little and add additional insulation between the hammock and the blanket for lower temps with no risk of compressing either.
The down side is it is for this hammock only, unless I add clips to another hammock.
I will be sleeping in it for the next few nights to test it. Austin modeled it, and said it warmed up REAL fast.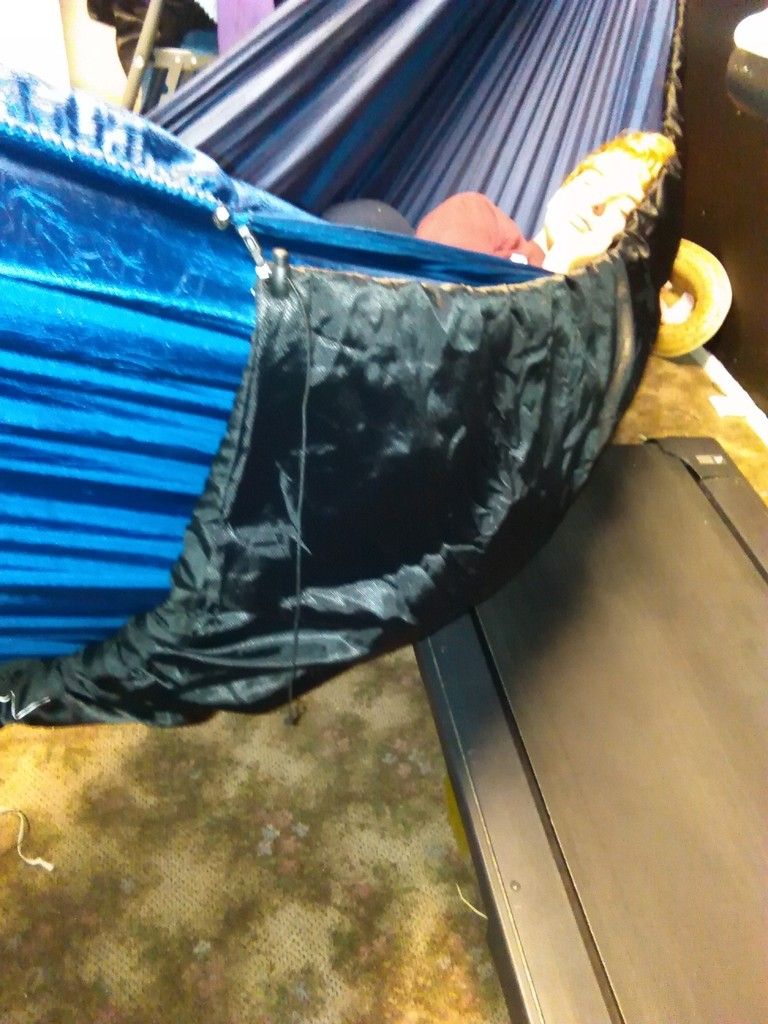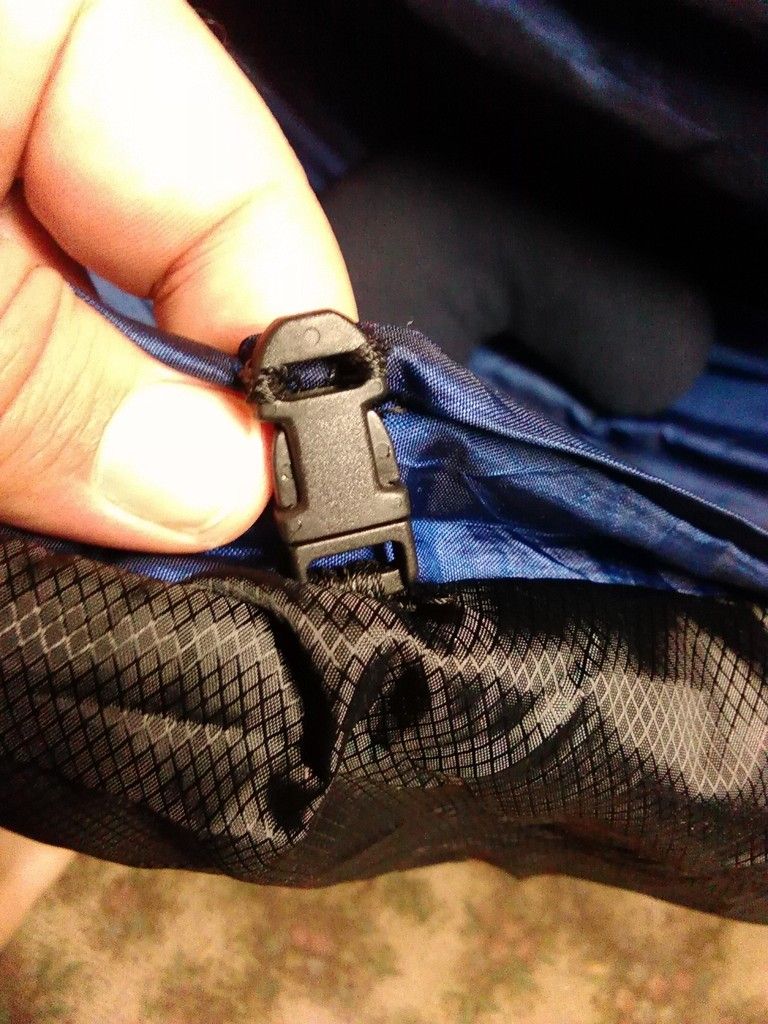 small 'Parachute Buckle'