Hey guys and gals, and fellow hammock nerds. I got some stuff from Dutch's
Makeyourgear
site the other day, and I made this Shepherd's Pie from it today. I shared it on the other site, and thought I'd share it here too. If you end up making it, let me know what you thought of it, and if you changed anything. I thought it was pretty dang good, myself. It would have re-hydrated better in a cozy rather than a towel from my kitchen. I should have left it for another few minutes. I think I let it sit for about 12 minutes before I cracked it open. Enjoy!
Well, I had some free time earlier and I experimented with the shepherd's pie recipe. I am really pleased with how it turned out. I'll tweak a few things on the next batch, and then split it into about 4 or 5 servings.
As it was this time, here was the recipe:
1 oz - freeze dried ground beef
.5 oz - freeze dried corn
.5 oz - freeze dried peas
.5 oz - dehydrated diced carrots
.25 oz - dehydrated white onions
.5 oz - freeze dried cheddar cheese
.5 package - knorr classic brown gravy mix
1 tbsp - flour (heaping)
1 tsp - butter buds
⅓ cup - instant potatoes
1 tsp - salt --- guessing on the salt and pepper
1 tsp - pepper --- I just used a grinder until the amount looked right
? oz - Water (I filled my 550ml toaks to within half inch from the top, then poured the boiling water into the bag until all was submerged, then used the rest for the potatoes. Not sure how much of each went into each part, but obviously most of it went toward the base.)
I measured each ingredient, and added them to the bag. I did the potatoes separately, and will continue to do so, but will put the cheddar cheese with the potatoes, instead of with the base. The butter buds also went into the potato mix. I'll use a different type of butter also. The butter buds were kind of sweet. Didn't really go with this savory type of meal. I may add dried chives to the potato mix, or add them on top of the whole meal when completed.
Also, I added the flour as an afterthought because the base was a bit thin, and I wanted more of a gravy consistency. I'll add the flour into the mix beforehand on the next batch. Other than that, it was close to perfect!
Everything in one of Dutch's bowl bags, and water on the stove getting a boil.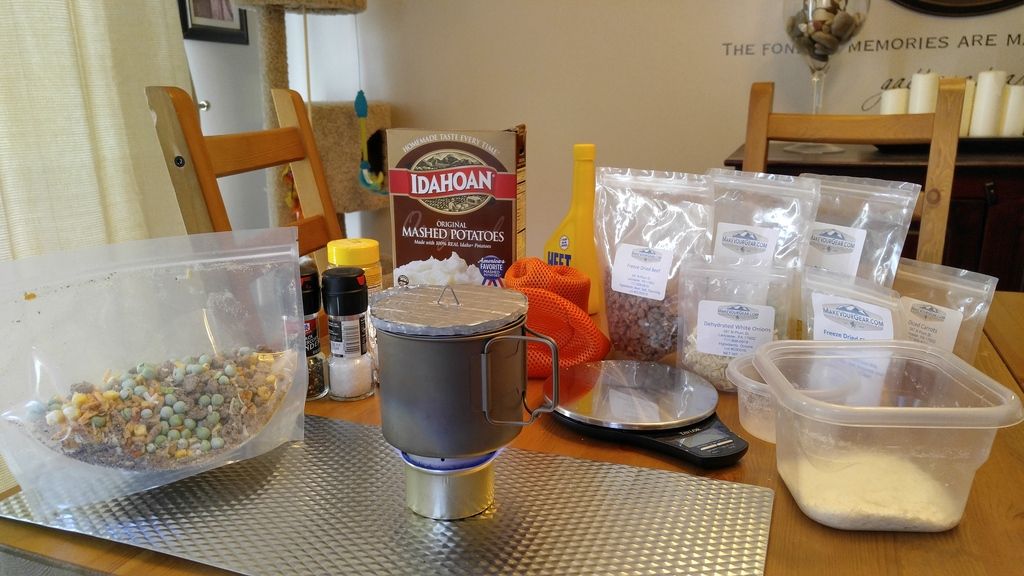 The finished product. It was delicious!!! Sitting by the fire with belly full of this after a long day of hiking, then sleeping in my hammock afterward. Nirvana.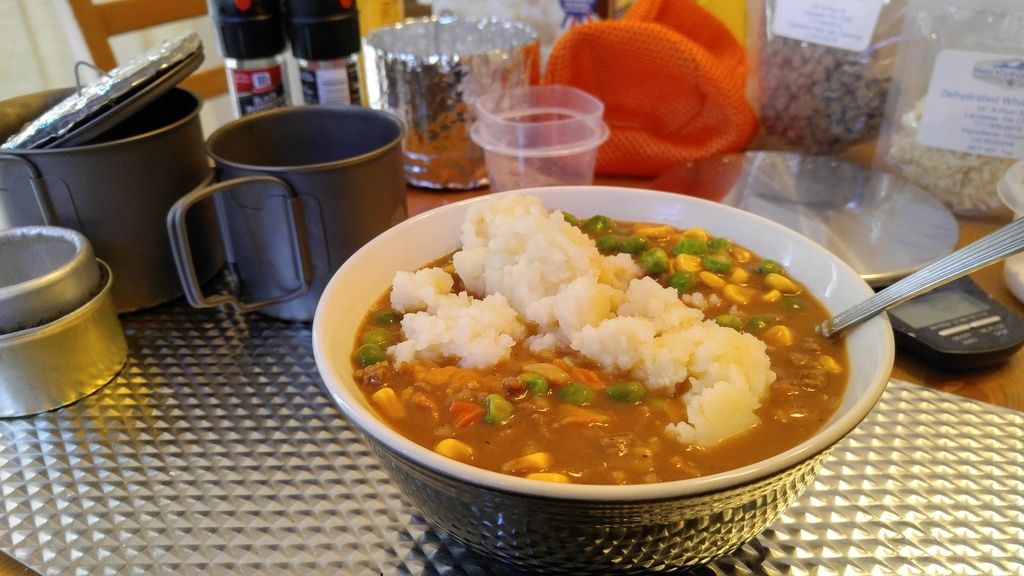 Thanks to Dutch for supplying the goodies. I think these bowl bags are going to be great on the trail.